A roundtable held to expand cooperation between Azerbaijani and Russian SMBs
03.10.19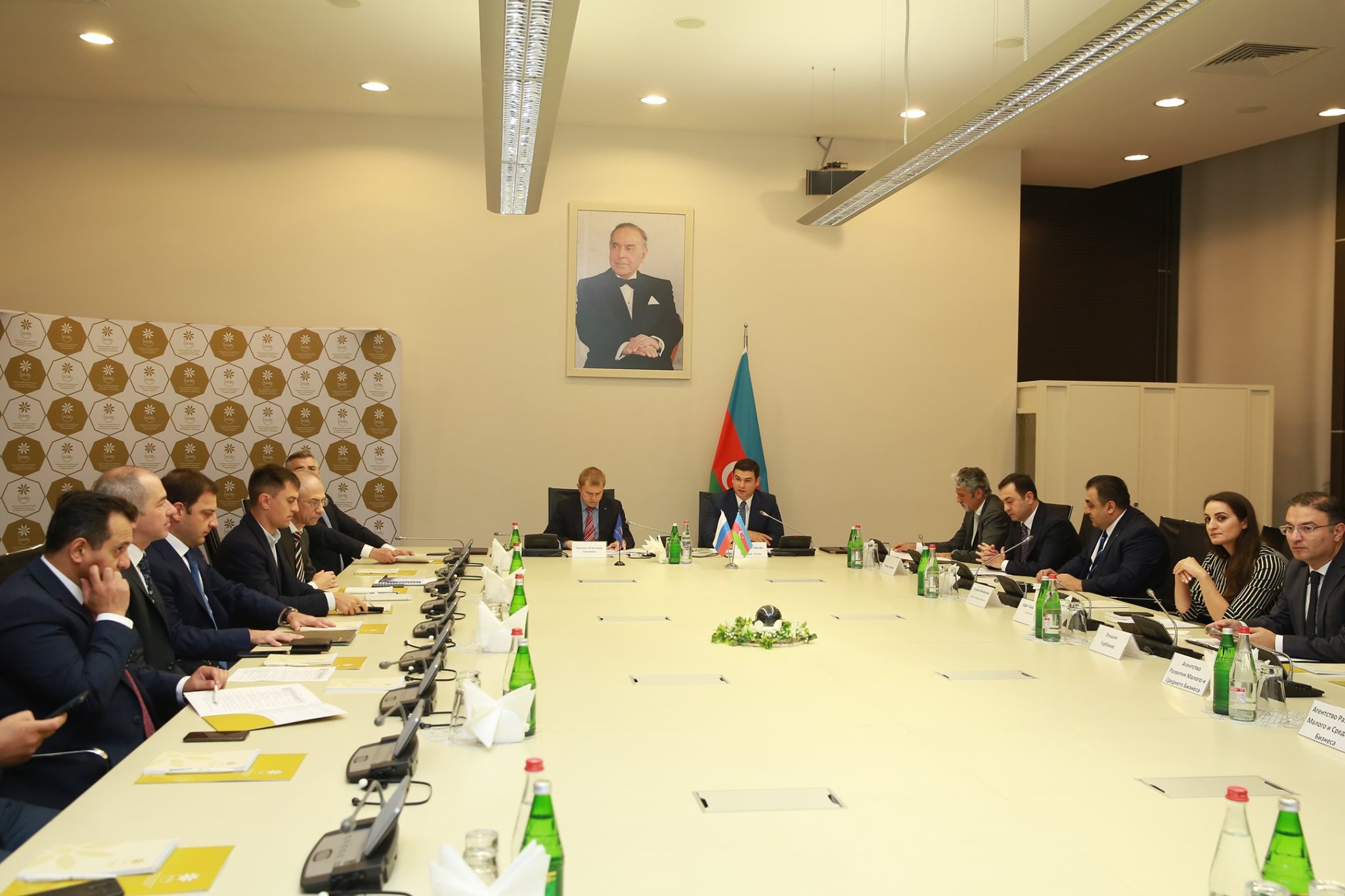 On October 3, a roundtable on development of relations between small and medium businesses in Azerbaijan and Russia, identification of new cooperation areas and sharing experience in the field of SMBs was held at Baku Business Center.
Roundtable on "Perspectives of cooperation in the field of small and medium enterprise" organized by the Agency for the Development of Small and Medium Businesses of the Republic of Azerbaijan (SMBDA) was held within the visit of the delegation of All-Russian Non-Governmental organization of Small and Medium Enterprises "Opora Russia" led by its president Alexander Kalinin.
The event was attended by representatives of the Azerbaijani-Russian Business Council, Caspian European Club, as well as Azerbaijani entrepreneurs engaged in agriculture, tourism, health, consulting and other areas which play an important role in development of relations between entrepreneurs of Azerbaijan and Russia.
In his speech at the Round Table, chairman of the Board of SMBDA Orkhan Mammadov stressed successful development of the Azerbaijani-Russian economic relations in various directions and expressed interest of the Agency in learning the experience of foreign partners including Opora Russia in the field of SMBs, development of effective mechanisms and stimulation of business-oriented mindset.
President of the All-Russian Public Organization for Small and Medium Enterprises "Opora Russia" Alexandra Kalinin expressed satisfaction with the visit to the country and organization of the round table which will be important for development of relations between SMBs of both countries. Speaking about the activities of "Opora Russia", Alexander Kalinin shared his vision on opening of a representative office in Azerbaijan and sharing of both organizations' capacities and experience.
Representatives of "Opora Russia" Vladislav Korochkin, Nikalay Dunaev, Artyom Androsov, Deputy Chairman of the Azerbaijan-Russian Business Council Natig Heydarov, Chairman of the Azerbaijan Tourism Association Nahid Bagirov, director of Caspian European Club Telman Aliyev and representatives of several large companies informed the audience about activities of their organizations and shared their views on cooperation and experience sharing between SMBs of Azerbaijan and Russia.
Within the framework of the Round Table the Memorandum of Understanding was signed on mutual cooperation between SMBDA and All-Russian Public Organization of Small and Medium Enterprises "Opora Russia". The document was signed by Orkhan Mammadov, Chairman of the Board of SMBDA and Alexander Kalinin, President of All-Russian Small and Medium Enterprises Public Organization "Opora Russia". The document envisages provision of information and marketing support to SMBs, training programs in the field of entrepreneurship and business processes, support for SMBs, development and implementation of joint projects for cooperation in trade, industry, science and technology and other areas.
Representatives of the Russian Small and Medium Enterprises Public Organization "Opora Russia" will hold a number of meetings with business entities and pay a visit to Sumgait Chemical Industrial Park to find out about its activities.
Powered by Froala Editor