An SMB friend started operating in the Tartar region
03.09.21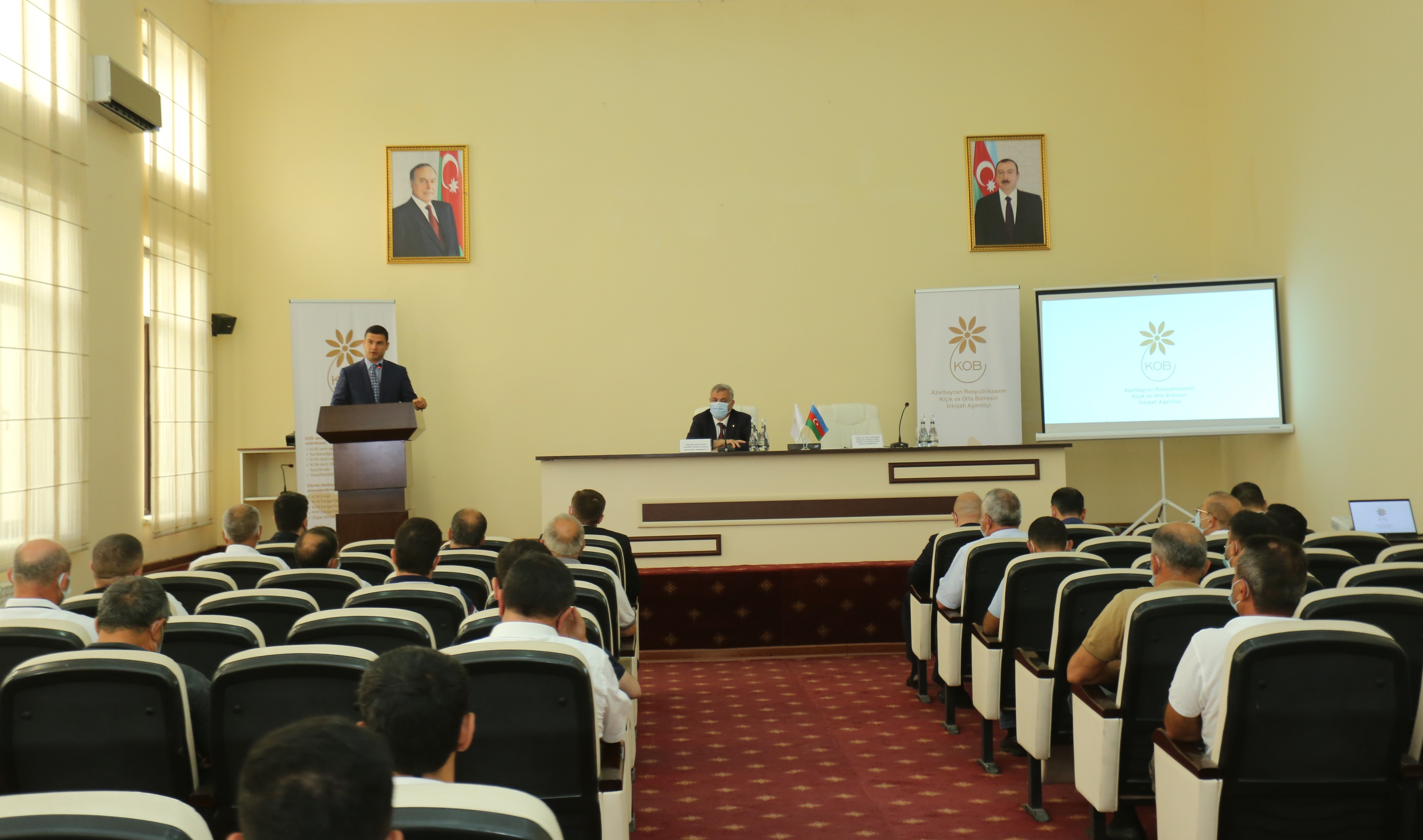 The second Small and Medium Business Friend (SMB friend) office started operating in the Tartar region of the Karabakh economic area. The office located in the Tartar Youth Center will provide business support and services to entrepreneurs in Tartar and surrounding towns and districts.
On September 3, with the organizational support of the Small and Medium Business Development Agency (SMBDA) and the participation of representatives of the Tartar Region Executive Power, entrepreneurship, and relevant agencies, the SMB friend was introduced to the business community of the region; the participants got acquainted with the conditions created for entrepreneurs in the SMB friend.
The Chairman of the Agency Board Orkhan Mammadov informed entrepreneurs on the SMB friend mechanism and Agency's other services and support measures and invited them to actively collaborate with the SMB friend. It has been noted that the Tartar SMB friend will provide local support and services in the fields of entrepreneurship development, creating new business entities, protecting the entrepreneurs' interests, etc. Herewith, where appropriate, the SMB friend will coordinate entrepreneurs with the relevant agencies and take appropriate measures to eliminate emerging difficulties within the framework of the public-private partnership platform.
It was noted that during the 44-day Patriotic war, the Tartar region, like some other cities and villages beyond the combat zone, had suffered from Armenian provocations. Despite the destruction and damage, the Tartar people showed great determination. The payment of financial assistance has already started to citizens and enterprises, whose property has been damaged from the Patriotic war.
The head of the Tartar Region Executive Power Mustagim Mammadov drew attention to the measures taken in the region to develop the private sector while stressing that the SMB friend, like other state support mechanisms, will play an important role in expanding entrepreneurship and creating new enterprises.
At the event, films were demonstrated about the support and services provided by SMBDA to entrepreneurs and the SMB friend mechanism and entrepreneurs' questions answered.
Note that currently, 31 SMBDA's SMB friends operate in 26 cities and regions of the country.
After the event, the SMBDA representatives got acquainted with some industrial enterprises and farms operating in the Tartar region and met with entrepreneurs.
Powered by Froala Editor