SME World Forum held in Baku
16.11.23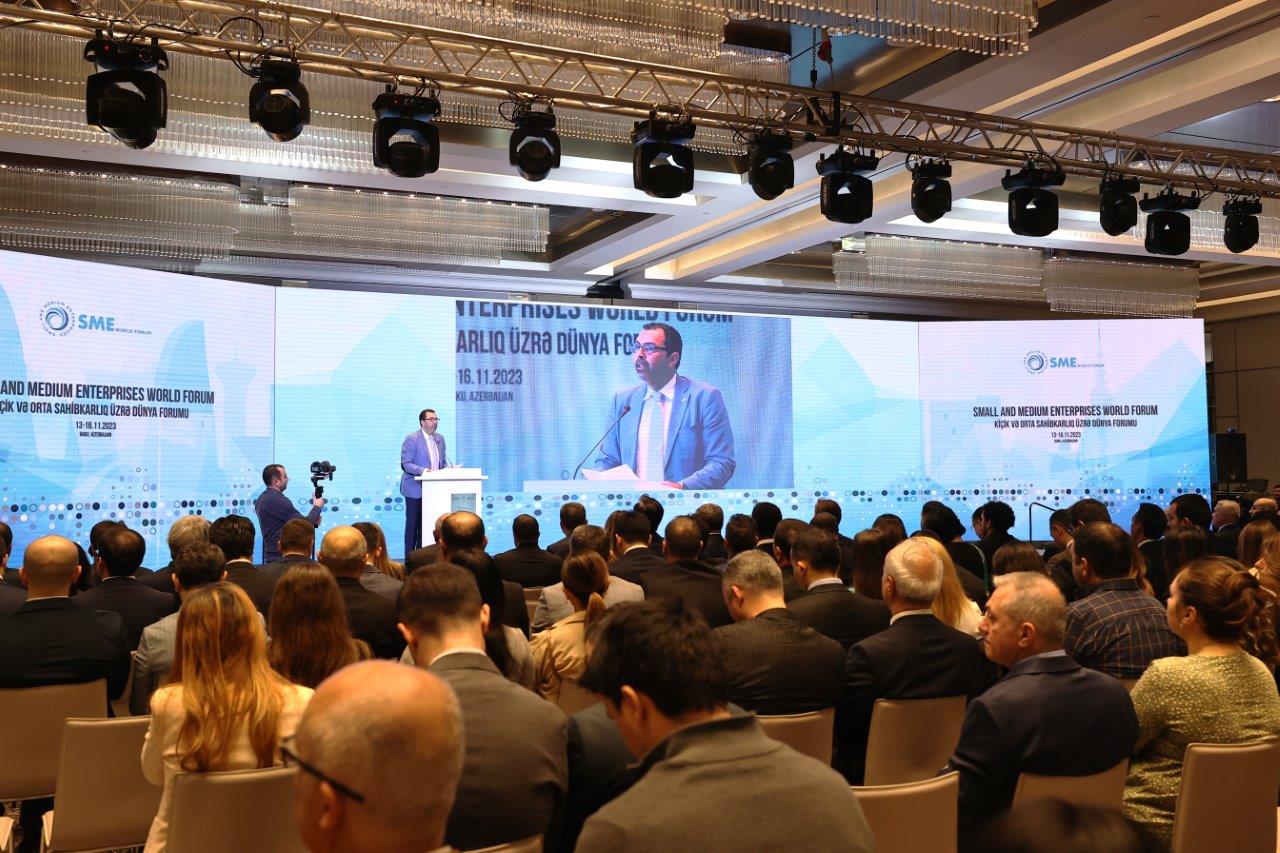 At the SME World Forum, hosted by Baku this year, ideas were shared on the best practices in the field of supporting and improving SMBs, expanding institutional partnerships, new cooperation perspectives between stakeholders, and promoting young and female entrepreneurs.
The World Forum on Small and Medium Enterprises (SME World Forum 2023) was held in Baku within the scope of the Global Entrepreneurship Week.
The event was attended by public officials, representatives of international agencies, business associations, and businesspersons, and was organized with the support of the Ministry of Economy, the Small and Medium Business Development Agency (KOBİA) and the International Council for Small Business (ICSB).
The event aims to explore the best practices in supporting and improving small and medium businesses, expanding institutional partnership, identifying new cooperation avenues between stakeholders, promoting young entrepreneurship, as well as introducing Azerbaijan's auspicious business environment and perspective investment opportunities to a broad audience.
Speaking at the forum, Deputy Minister of Economy ICSB President Sahib Mammadov, and CEO Ayman El Tarabishy, Chairman of the Board of ICSB Ki Chan Kim, Chairman of the Board of KOBİA Orkhan Mammadov, Director of the Organization for Development of Entrepreneurship of Moldova Dumitru Pintea, President of the National Confederation of Entrepreneurs (Employers) Organizations of the Republic of Azerbaijan Mammad Musayev, President of the Italy-Azerbaijan Chamber of Commerce Manuela Traldi, as well as Chairman of the All Industrialists and Businessmen Association (TÜMSİAD) Yasar Dogan conveyed information on the development of entrepreneurship globally and in Azerbaijan, expanding role of SMBs in GDP, employment and exports, measures aimed at assisting SMBs in other countries.
As part of the event, panel discussions on the topics "Small business and entrepreneurship in Azerbaijan", "Digital transformation of SMBs and foreign trade", "Strengthening the business activities of women and young people entrepreneurs" will be held.
It is worth highlighting that within the scope of the SME World Forum held in Baku on November 13-16, an event on "Training of future entrepreneurs" was held at the 21st Century International Education and Innovation Center, and an event on the relationship between entrepreneurship and education was held at ADA University.
Powered by Froala Editor