15 rural guesthouses were built in the Ismayilli region with state support
27.05.21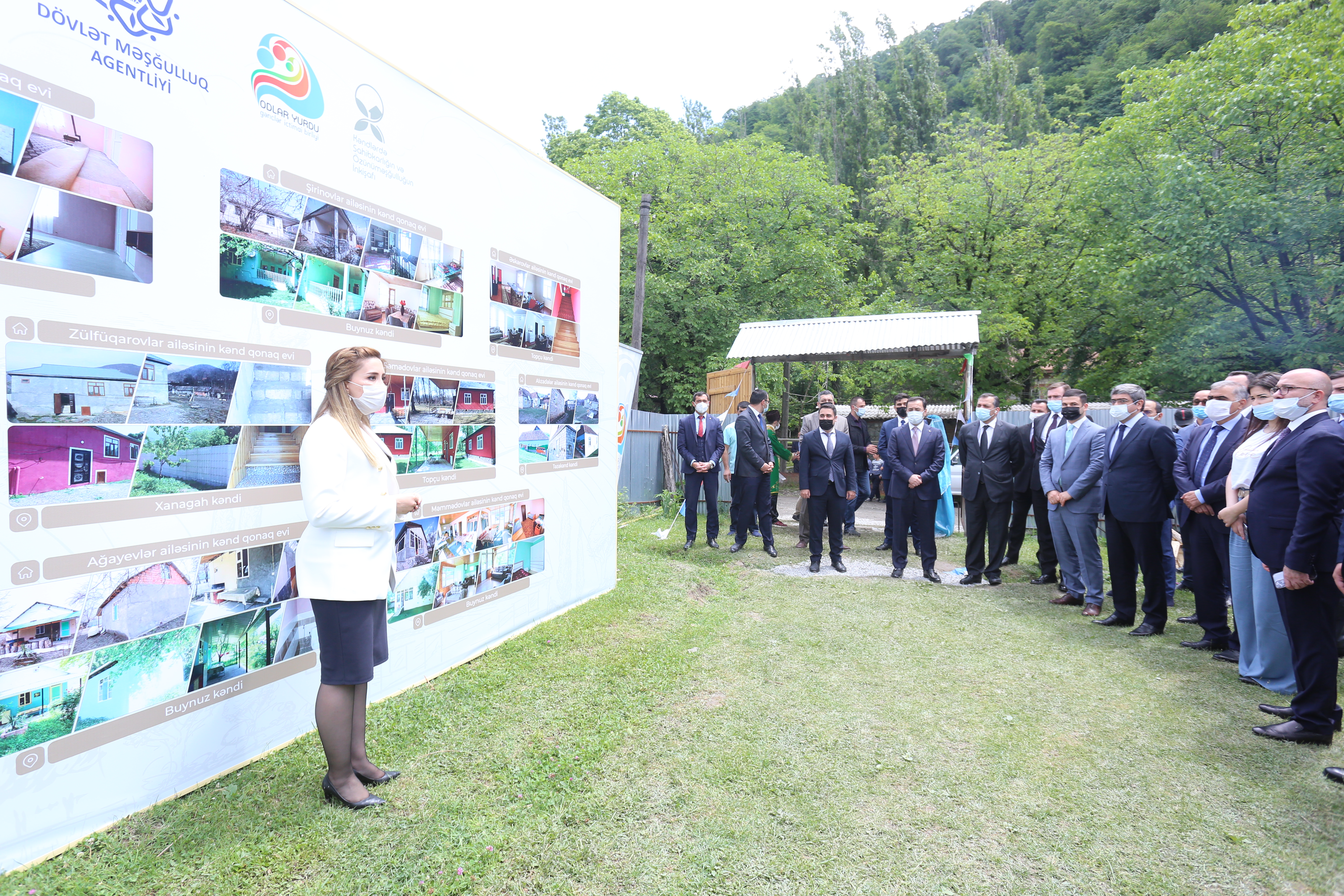 15 business objects - rural guesthouses were built in the Ismayilli region under the project "Development of entrepreneurship and self-employment in villages" implemented by the Youth Public Association "Odlar Yurdu" by order of the Small and Medium Business Development Agency (SMBDA) of the Republic of Azerbaijan and with the support of the State Employment Agency.
Rural guesthouses for serving local and foreign tourists are located in the villages of Buynuz, Khanagakh, Topchu, Tezekend, Sumaganli, and in the Lahich Settlement of Ismayilli region. With the support of the SMBDA, overhauls were performed in the rural guesthouses and pieces of training were arranged for their owners to expand their knowledge and skills in tourism and services. As part of the self-employment program, the State Employment Agency provided guesthouses with appropriate equipment and furniture (sofas, armchairs, tables, chairs, bed linen, wardrobes, refrigerators, air conditioners, TVs, microwave ovens, vacuum cleaners, cookware, etc.).
On the occasion of handing the rural guesthouses over for use in the village of Buynuz in Ismayilli region, an event was held, attended by the chairman of the Small and Medium Business Development Agency (SMBDA) Orkhan Mammadov, Deputy Minister of Labor and Social Protection of the Population Anar Aliyev, chairman of the State Tourism Agency Fuad Naghiyev, head of the Ismayilli Executive Power Nahid Baghirov, as well as representatives of some other government agencies and various NGOs. The event participants got acquainted with the rural guest houses and were informed in detail of the work done under the project.
It was noted that the "Development of entrepreneurship and self-employment in villages" project was aimed at supporting the improvement of the population welfare through the development of entrepreneurship and ensuring self-employment in the regions. The project was launched in September 2020. The villagers participating in the project are people who wish to start an entrepreneurial activity or develop themselves in this area. When choosing participants, preference was given to persons from socially vulnerable groups. Another project's achievement was founding 15 microbusinesses engaged in tourism.
The event also featured stands dedicated to the traditional activities of the Ismayilli region.
The villagers who joined the project noted that creating guesthouses would be important for increasing their income and employment and developing entrepreneurship in the region and expressed gratitude for the support provided.
Powered by Froala Editor