Our country hosts the fourth "EY Businessman of the Year" competition
20.12.22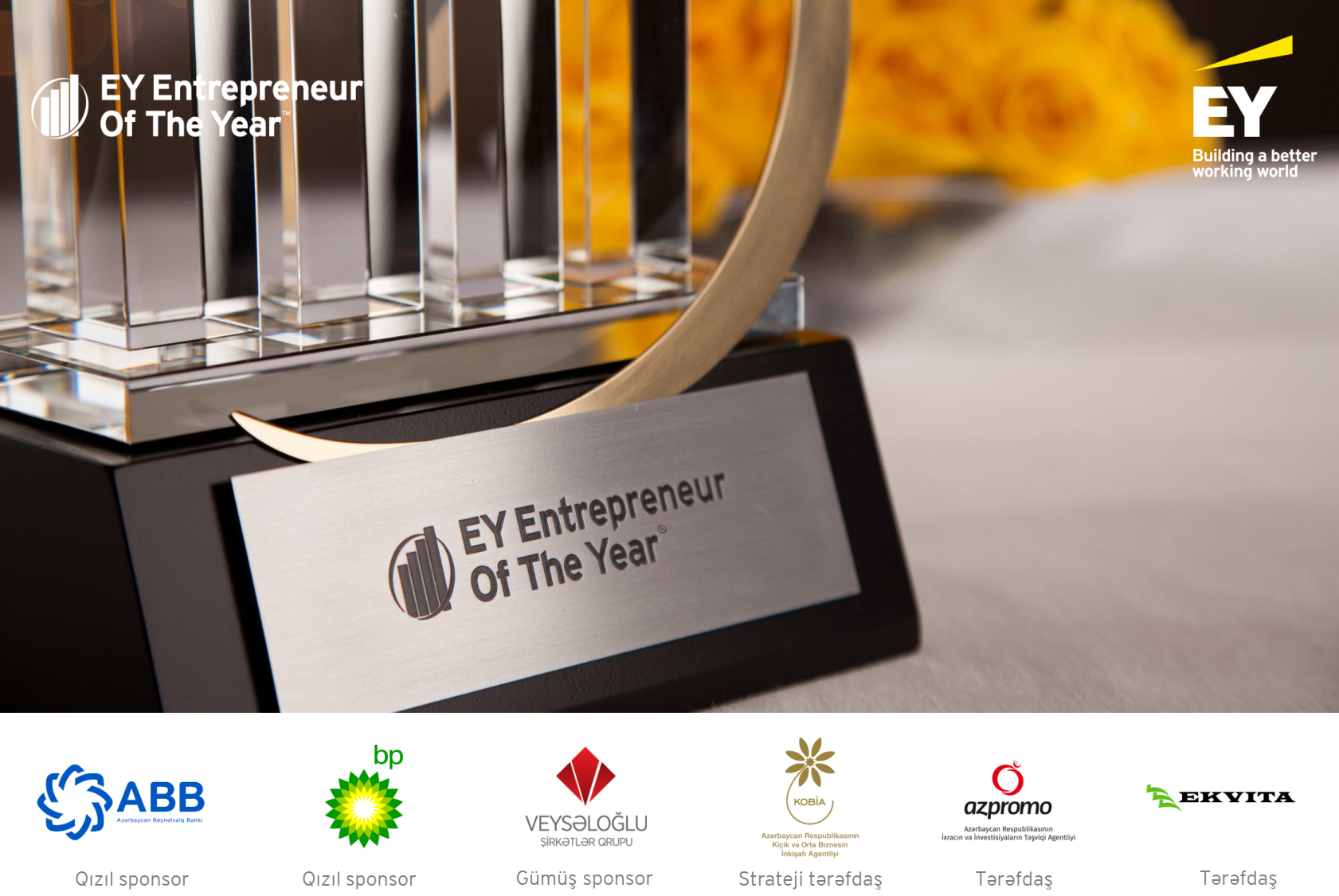 The EY (formerly Ernst & Young) company invites small and medium-sized business entities in Azerbaijan to participate in the "EY Businessman of the Year" 2022-2023 competition. The "EY Businessman of the Year" programme welcomes nominations (applications) from prosperous small- and medium-sized business entities that have built businesses occupying a dominant position in the market and have a good influence on society with their creative ideas and drive for success.
Who can participate?
The candidate and the represented company must operate in Azerbaijan.

The candidate must have the main responsibility in the company's activities and hold a managerial position.

The company's turnover should have ranged from 300k to 30m manats during the previous two years for at least one fiscal year.

The candidate must provide traceable tax returns for the last 2 years and be able to provide financial statements.
How to nominate a candidate?
Visit www.eoy.az for more information on eligibility criteria and to nominate.
Program schedule:
Applications for candidacy must be submitted by December 31, 2022.

Candidates will be evaluated by an independent jury during February 2023.

Finalists and the final winner of the national round of the "EY Businessman of the Year" program will be announced at the award ceremony in February.The national winner will travel to Monaco to compete in the "

EY World Entrepreneur Of The Year

" competition in June.
The jury:
Following a nomination and selection process, finalists and winners will be selected from eligible candidates by an independent panel of judges. Judges will evaluate based on various factors such as growth in turnover, profitability, the candidate's leadership abilities, innovation and creativity, sense of social responsibility and emphasis on sustainability.
Privacy
All financial and personal information submitted during nomination will be treated as confidential and protected accordingly.
Partners and sponsors:
The "EY Businessman of the Year" competition is held with the financial support of IBA, bp and Veyseloğlu Group of Companies as part of strategic partnership with the Small and Medium Business Development Agency of the Republic of Azerbaijan (KOBİA). AZPROMO and EKVITA are among the partners of the program.
About the "EY Businessman of the Year" program
The "EY Businessman of the Year" competition, established by the EY company, has been held since 1986. The purpose of the "EY Businessman of the Year" program, the world's most prestigious business award, is to encourage high-potential business people to inspire others by demonstrating their entrepreneurship, leadership and success. As the first and only global awards program in its field, "EY Businessman of the Year" introduces entrepreneurs who have built successful, growing and dynamic businesses in a regional, national and global program covering more than 145 cities in more than 60 countries.
Powered by Froala Editor