President Ilham Aliyev attends inauguration of "Baku SMB house"
06.01.23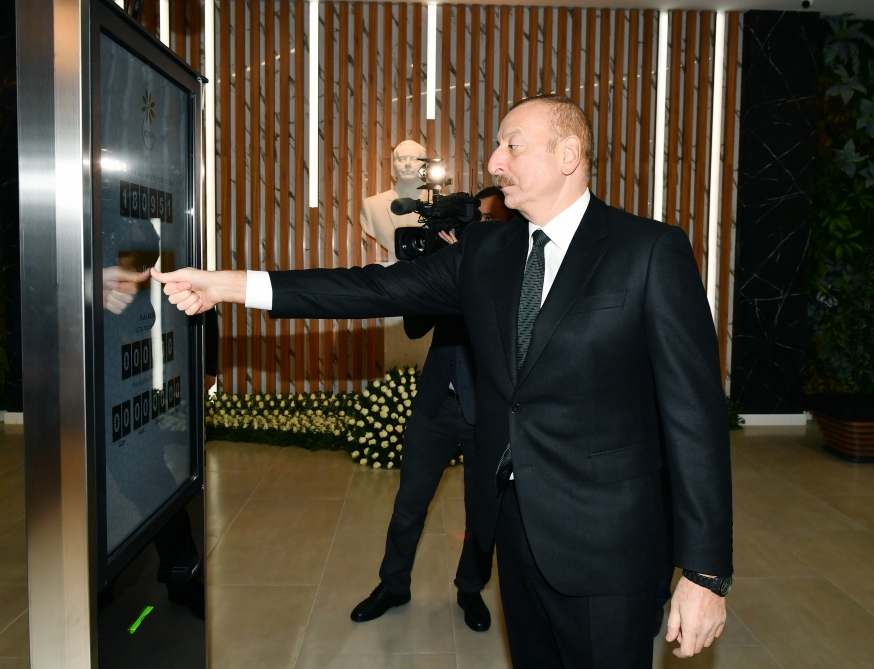 The President of the Republic of Azerbaijan Ilham Aliyev, has attended the opening of "Baku SMB house".
The Chairman of the Board of the Small and Medium Business Development Agency (KOBİA), Orkhan Mammadov, informed the head of state of "Baku SMB house," located in the Narimanov district.
The total area of the "Baku SMB house," which ranks the 3rd place in the country, is 11,262 square meters. The first two floors of the three-storey building are designed for entrepreneurs, and the third floor is designed for the staff. "Baku SMB house" has the capacity to serve 5,000 entrepreneurs per day. The three-storey building has meeting, training, and mediation rooms, as well as a conference hall.
More than 150 services will be rendered to entrepreneurs by 29 government agencies and more than 100 services by 20 private entities in the "Baku SMB house". Entrepreneurs are encouraged to apply to "Baku SMB house" on business registration, obtaining licenses and permits, development of a business plan, access to concessional financial resources, tax, customs, connection to public utilities, banking, insurance and other issues. Furthermore, a wide range of services on customs and import-export operations will be rendered in the International Trade, Development and Logistics Zone created in "Baku SMB house".
The SMB houses are a single space where government and business services are provided to entrepreneurs in a centralized manner.
The services are provided based on the principles of promptness, transparency, politeness and convenience.
The main advantages of SMB houses are bringing together business services in one space, saving time and costs, and ensuring efficiency.
Over 170,000 services have been rendered to entrepreneurs in Khachmaz and Yevlax SMB houses, of which over 165,000 are government-to-business (G2B) services, and nearly 9,000 are business-to-business (B2B) services.
The satisfaction rate of entrepreneurs with the services of SMB houses is 98 percent.
We should note that one of the priority directions of the socio-economic policy implemented under the leadership of President Ilham Aliyev is to increase the role of entrepreneurship, especially small and medium enterprises, in ensuring sustainable economic development of Azerbaijan.
As a continuation of the systematic actions implemented in the private sector development in our country, by the Decree of the head of state dated December 28, 2017, the Small and Medium Business Development Agency (KOBİA) was established under the Ministry of Economy.
KOBİA offers support and services to entrepreneurs in information, consultation, training, protection of interests, improvement of access to markets and financial resources, coordination with public and private institutions and other areas. These support and services are rendered through KOBİA`s extensive infrastructure network covering different cities and regions of the country – SMB friends, SMB development centers and SMB houses. Therefore, SMB development centers provide free information, consultation, training and business plan preparation services to enhance the business knowledge of SMBs.
In the regions of the country, protection of the interests of SMBs, access to necessary support and services are implemented through the "SMB friend" network operating in 38 cities and districts.
Moreover, KOBİA issues micro and small business entities with a "Startup" certificate, which exempts them from profit and income tax on the income obtained from their innovation activities for a period of 3 years, financial support is provided for conducting internal market research, education, science, research and support projects, support for their participation in exhibitions and access to trade networks free of charge is provided.
https://president.az/az/articles/view/58535
Powered by Froala Editor