The current situation in the Azerbaijani advertising market discussed
19.10.21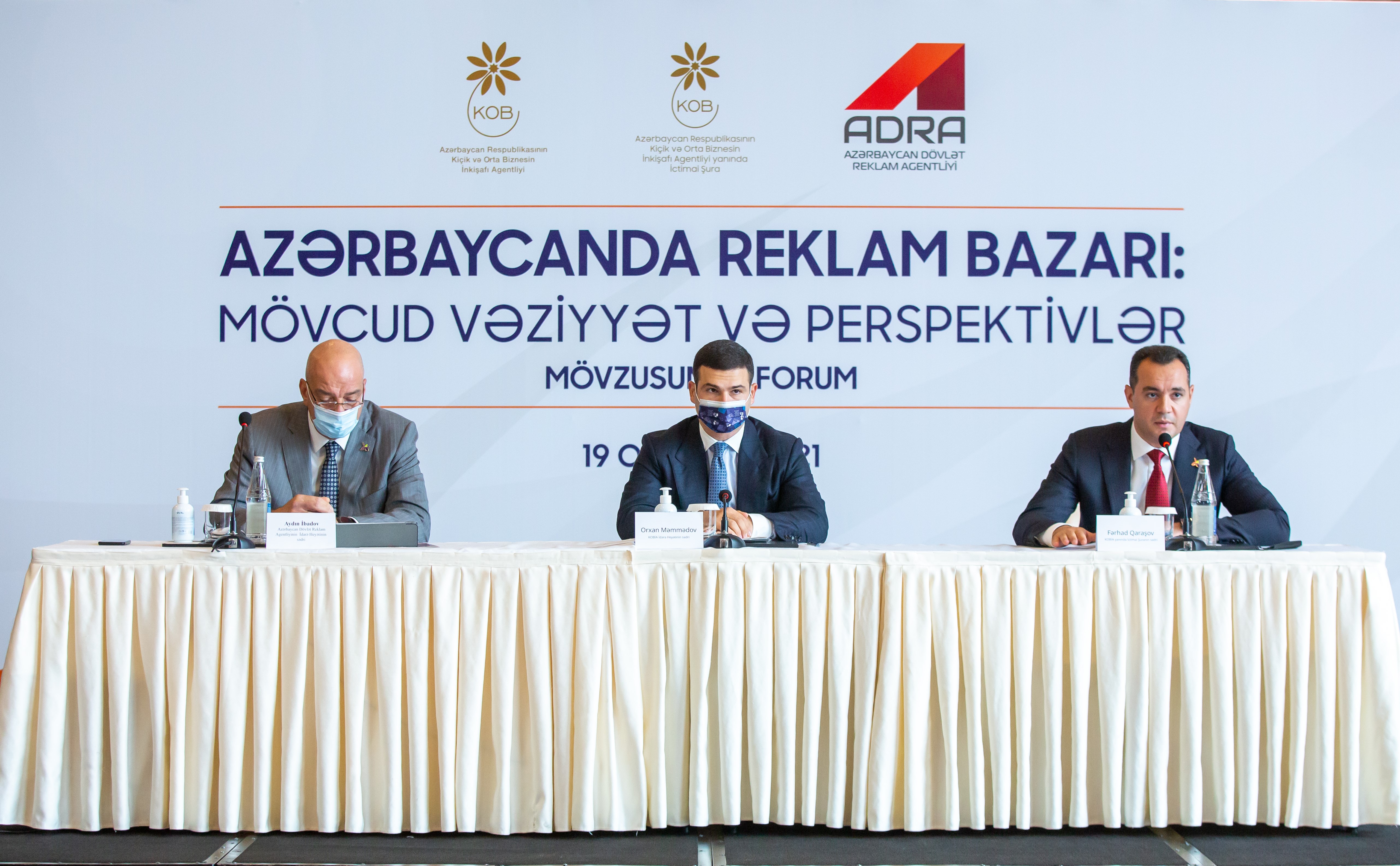 On October 19, with the support of the Small and Medium Business Development Agency (SMBDA) and the State Advertising Agency of Azerbaijan (ADRA), a forum was held on the topic "Advertising market in Azerbaijan: current situation and prospects," arranged by the Public Council under SMBDA. The event was attended by representatives of relevant government agencies, advertising companies, and business associations.
Chairman of the Public Council under SMBDA Farhad Garashov noted that the forum was arranged to study the current situation and problems in the Azerbaijani advertising market.
The chairman of the SMBDA Board of Orkhan Mammadov stressed that the event would become an effective platform to study the problems of advertising market participants and find joint solutions through public-private dialogue, and made proposals for expanding public participation in the advertising sector and raising awareness of entrepreneurs of the appropriate area. The possibility of creating unions, councils, associations, and other NGOs in the field of advertising was noted. Workshops and meetings can be held jointly with ADRA in SMBDA's regional SMB houses and SMB development centers to expand measures for raising entrepreneurs' awareness of advertising payments, rules, and procedures.
The chairman of the State Advertising Agency of Azerbaijan (ADRA) Aydin Ibadov spoke about the organization's activity, work done over the past 4 years to develop the country's advertising ecosystem, and further objectives. It was noted that along with the development of the relevant area, the Agency's activity is based on the principles of entrepreneur satisfaction, transparency, and responsibility. To implement unified regulation and control in the field of placing advertising media in open space and preparing and distributing advertisements on them, an online permit obtaining system, a unified database, a system of virtual 360-degree panoramic mapping, and other innovative solutions are being introduced. The widespread use of the latest IT opportunities in advertising will continue in the future.
At the forum, the use of advertising media in entrepreneurship, the development of a healthy and innovative advertising environment, the measures taken in this area, and the problems faced by advertising market participants were discussed, the participants' proposals were heard, and their questions were answered.
Powered by Froala Editor