The development of women's entrepreneurship has been discussed
23.07.21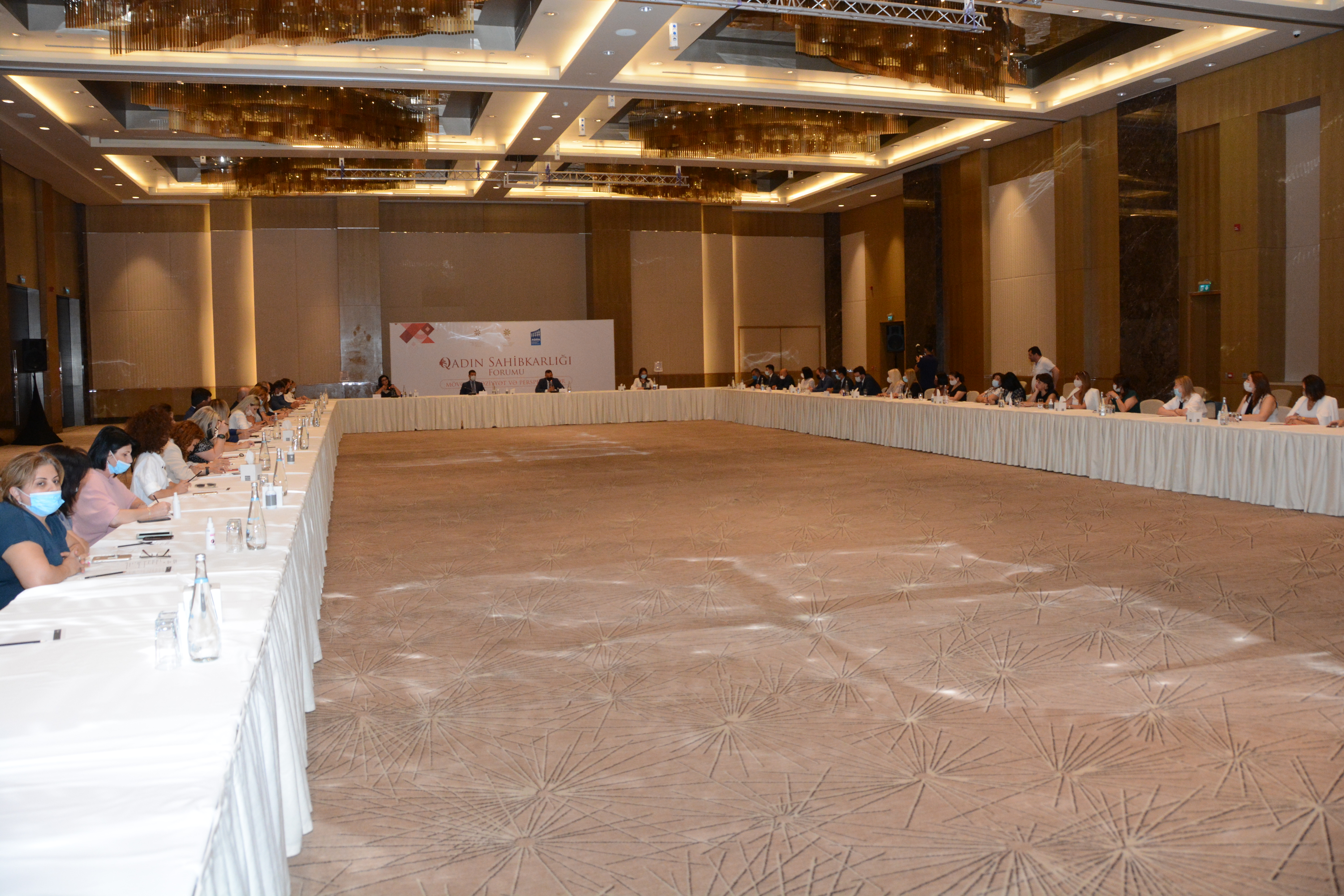 Women play a special role in the social, political, socio-economic, and cultural life of the country. The role of women in the economy, private sector development, and employment, and their interest in micro and small business and self-employment is growing.
The regular forum of the Public Council under the Small and Medium Business Development Agency (SMBDA), held on July 23, was devoted to the topic "Women's entrepreneurship: current situation and prospects". The event held with the support of the SMBDA in partnership with the Women's Entrepreneurship Development Association in Azerbaijan was attended by women entrepreneurs working in various sectors of the economy and representatives of government agencies.
The chairman of the Public Council under the SMBDA Farhad Garashov said that the forum was arranged to study the current situation and proposals in the field of women's entrepreneurship and determine further steps according to the new challenges and difficulties.
The chairman of the SMBDA Board Orkhan Mammadov stressed that the growth of economic activity of women and their wide participation in business and employment are among the priorities of state policy. It has been noted that developing women's entrepreneurship is among the important directions in the SMBDA activity. Analysis of the situation and the results of surveys show that it is important to improve the business knowledge and skills of women entrepreneurs. Since the second half of 2021, the geography of the Agency's SMB development centers has been expanding, which will allow attracting women in other regions to business training. To facilitate entry into sales markets, SMBDA pays special attention to the participation of women entrepreneurs in various exhibitions; they will also be able to expand their sales opportunities using the kobmarket.az portal. Women entrepreneurs may expand their activities using the Agency's new business support tools such as a "Startup" certificate and mechanisms for funding educational, scientific, research, and support projects.
In her speech, the Milli Mejlis deputy Fatma Yildirim shared her views on the development of women's entrepreneurship in the regions, strengthening information and educational activities in this area, and implementing relevant initiatives and projects, and expressed confidence that women entrepreneurs will actively participate in the revival of our lands freed from occupation.
Chairperson of the Women's Entrepreneurship Development Association in Azerbaijan Sakina Babayeva shared her views on the growing role of women in employment and the private sector development, informed on the work performed by the association and its plans for the future, and noted that the events arranged within the framework of the public-private partnership platform are important to explore the concerns and expectations of women entrepreneurs.
Then an exchange of views took place on the development of women's entrepreneurship in Azerbaijan, and proposals of women entrepreneurs were heard.
Powered by Froala Editor