To the attention of entrepreneurs and managers who wish to undergo advanced training in Germany!
03.02.20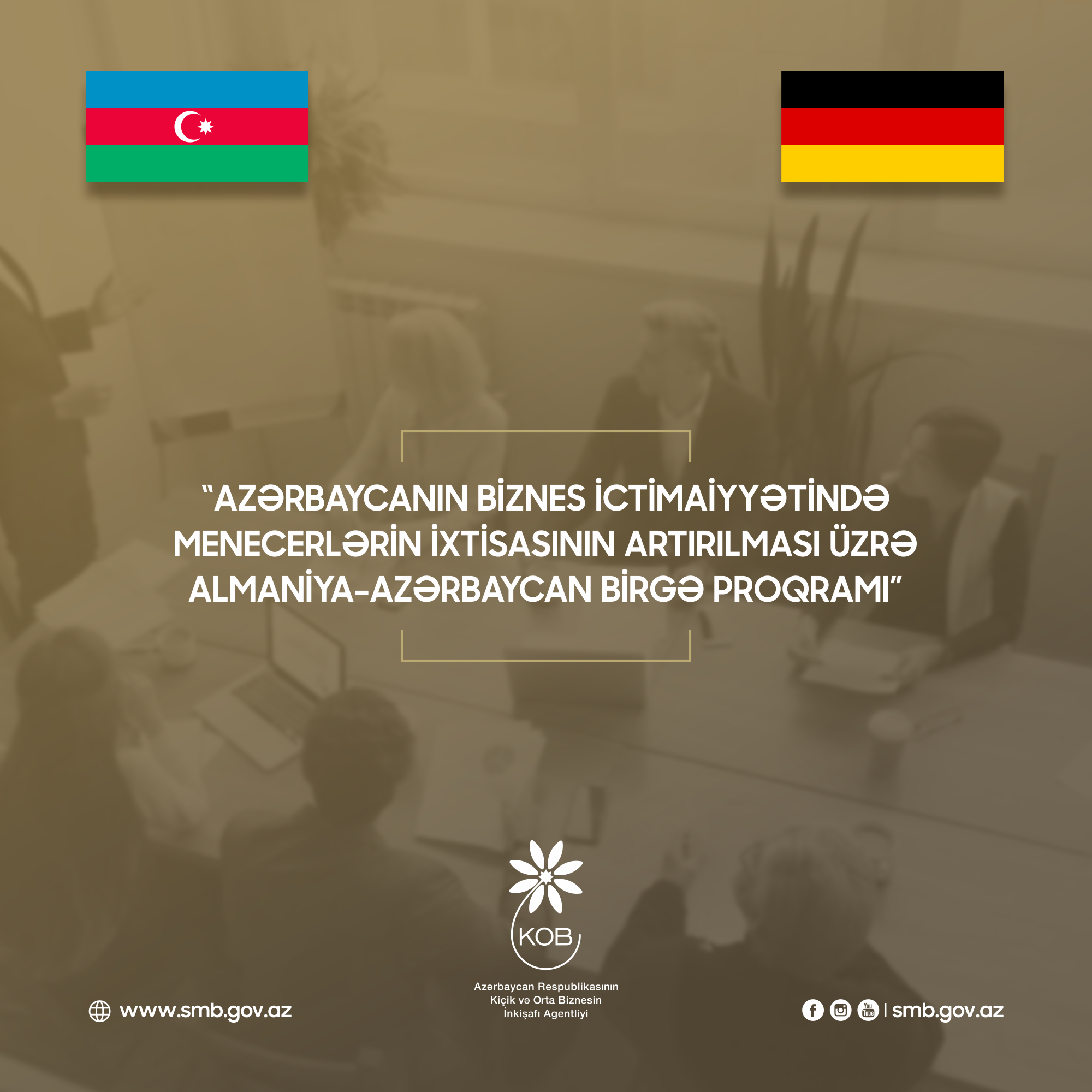 Small and Medium Business Development Agency (SMBDA) of the Republic of Azerbaijan announces a competition for entrepreneurs and managers interested in participating in a one-month training course on "Economic Cooperation" in Germany within the "Joint German-Azerbaijani training program for managers of the business community of Azerbaijan" for 2020-2021.
The program aims to support Azerbaijani businessmen to attend the training in Germany, and obtain international experience, as well as training and professional development of managers in business, and the establishment of direct economic relations with German companies (Information for applicants and participants).
About the course
Subject: Economic Cooperation
Program Language: English
Requirements for candidates:
Higher education (bachelor's or master's degree);
At least 1 (one) year experience in the field of management;
Age limit: 45 years old;
Good command of English;
High communication and presentation skills.
Competition rules
Eligible candidates will be invited to the competition. Selection of candidates will be held in March 2020 with the participation of specialists from the German Society for International Cooperation (GIZ).
The course consists of the following stages:
Training: Gaining practical management skills
Internship Program: Opportunity to practice internship in German companies, in groups or individually, establishing business contacts.
Costs: The cost of staying in Germany during the professional development course is covered by the organizers of the program. Travel and food expenses are paid by the organization where the participants work or by the participants.
How to apply: Candidates who wish to participate in the program are requested to submit the following documents in English by February 25, 2020, to the address (134 Mustafa Kemal Ataturk Ave., Baku) of the Small and Medium Business Development Agency of the Republic of Azerbaijan, and e-mail: training@smb.gov.az (with the subject "Professional Development Course in Germany"):
- Application Form - 2 copies;
- Personal Data Protection Application (Data protection declaration / Privacy statement) - 1 copy;
- A copy of a certificate approved by the senior official of the workplace indicating the position of the employee willing participate in the program - 1 copy;
- Certificate of insurance (İnsurance Form) - 1 copy;
- Cooperation project - 1 copy (Questions 1 - 5 must be fully answered);
- 3 x 4 colour photo - 2;
- Copy of foreign passport (page containing personal information only) - 1 copy.
- Candidates can find detailed information about the required documents on the official website - www.smb.gov.az - of the Small and Medium Business Development Agency of the Republic of Azerbaijan.
Contact person: Malahat Kazimova
Phone: (012) 404 04 01 / (055) 200 04 57
Email: training@smb.gov.az
Powered by Froala Editor