Training was Held for Employees of Public and Private Agencies Operating in the Yevlakh SMB House
13.04.21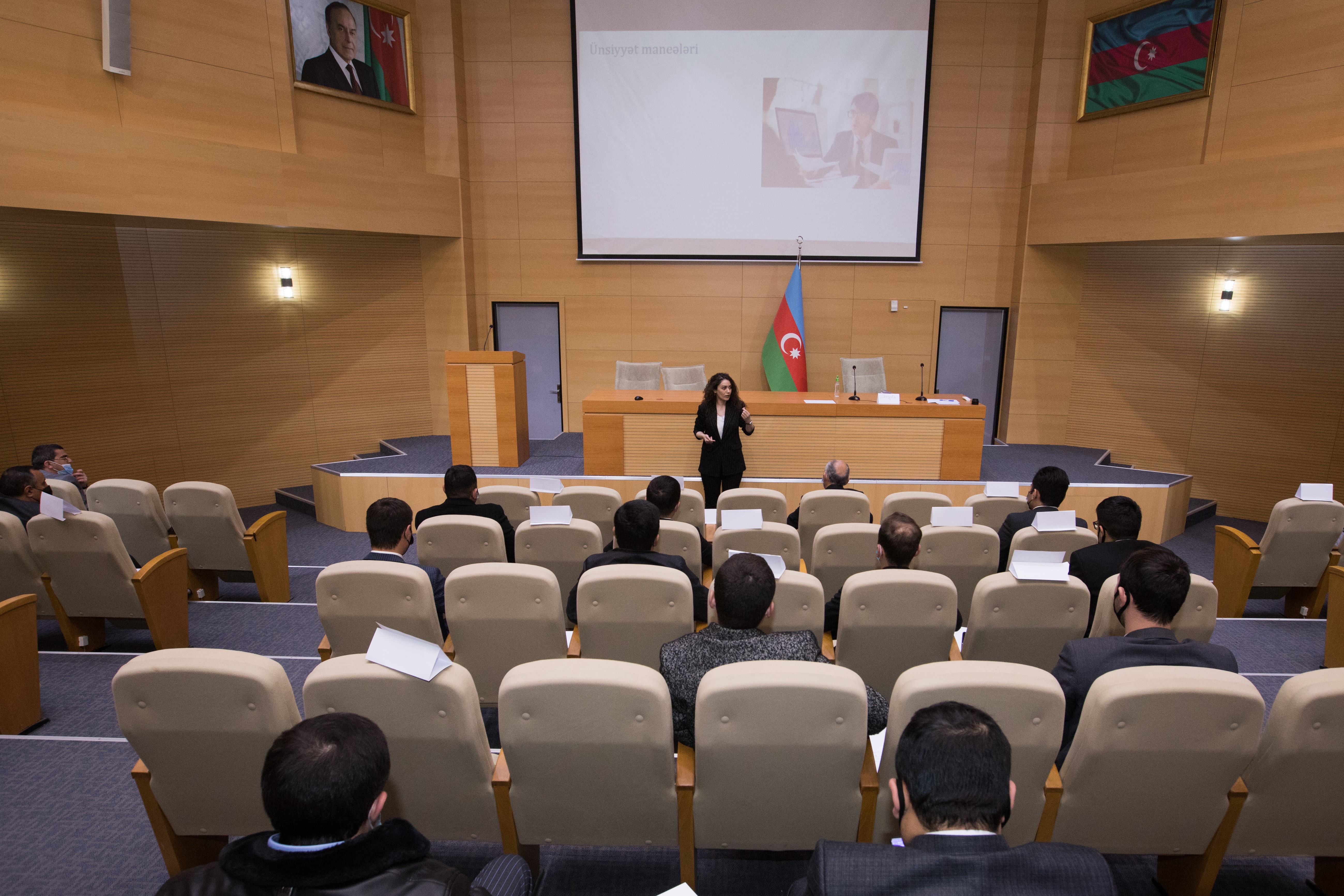 The Educational and Training Department of the Innovation Center of the State Agency for Public Service and Social Innovations under the President of the Republic of Azerbaijan performed training for employees of about 20 public and private agencies operating in the recently opened Yevlakh SMB House of the Small and Medium Business Development Agency (SMBDA).
The training covered various topics such as Listening and Explaining Skills, Stress Management, Conflict Management, and Customer Satisfaction Management. During the 4-day training, information has been provided on efficient communication techniques, the importance of communication in teamwork, and effective communication. Games have also been played to develop listening skills. At the training, various techniques of affecting the brain, body, and behavior were discussed to manage stress and reduce its causes and consequences, autogenic exercises and mindful meditations were performed with the participants. The causes of conflicts, their prevention, as well as some practical methods and ways of managing emotions were explained according to the training topic. At the training, the types of citizens, clients, and ways of serving them were also discussed, and interactive games for interpersonal perception played.
Participants who successfully completed the training received the Innovation Center certificates.
Appropriate training was also held for the employees of the Khachmaz SMB House, which had been successfully serving entrepreneurs since 2020.
The pieces of training regularly arranged by the Innovation Center are aimed at developing the effectiveness, stress resistance, self-management, communication, and other skills in the employees of agencies operating in various sectors.
Note that the Yevlakh SMB House is the second house of this kind to be put into use by businesses. The main advantage of SMB houses is that they provide entrepreneurs with government and necessary business services in a single space. Currently, in the Yevlakh SMB House, state and private agencies provide business entities with more than 200 services.
Powered by Froala Editor