Yevlakh SMB House has been put to entrepreneurs' use
08.04.21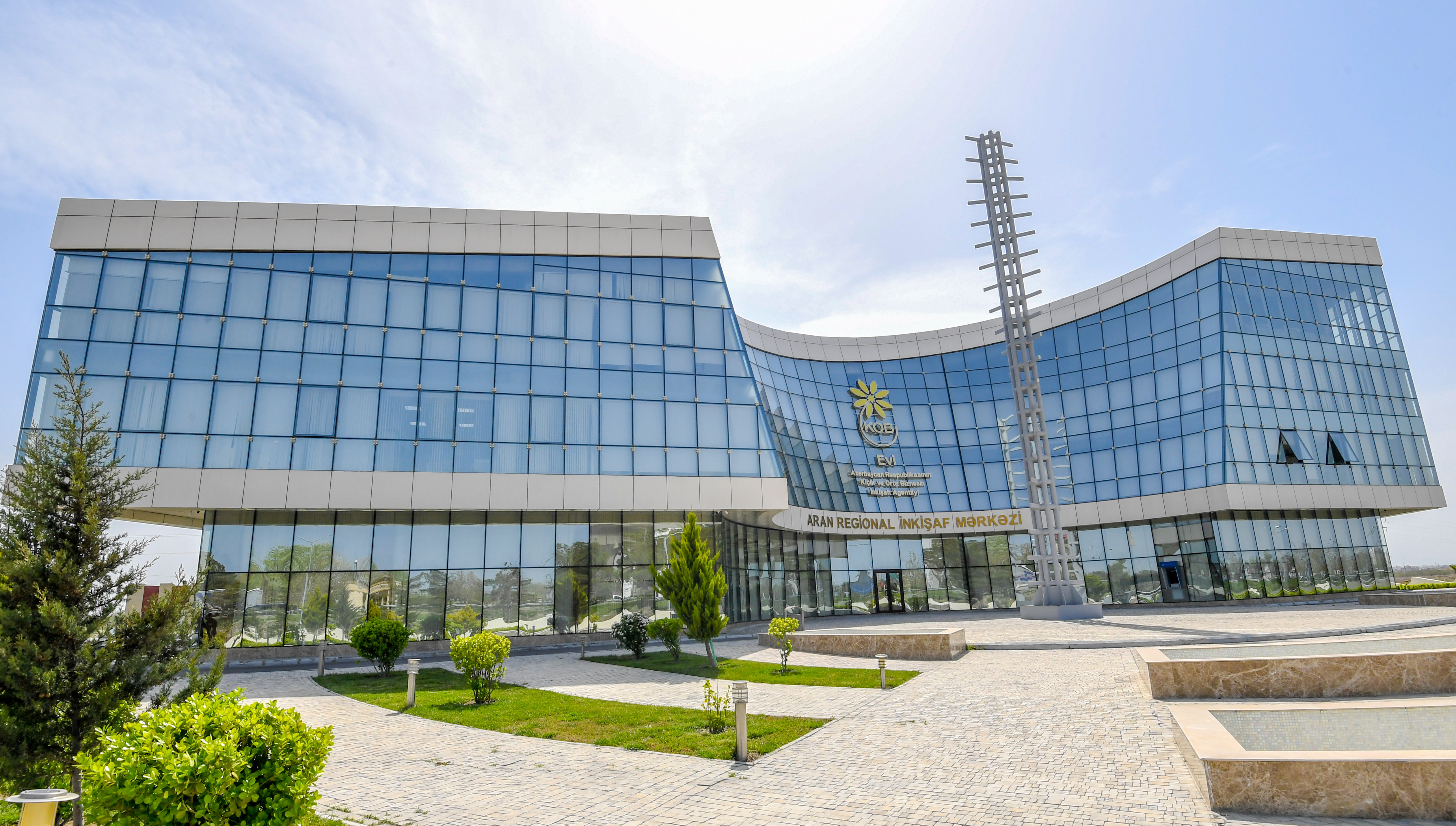 Pursuant to the socio-economic policy pursued under the leadership of the President of the Republic of Azerbaijan, systemic reforms are being performed and consistent measures are taken, and state support for entrepreneurship, especially small and medium businesses, is being strengthened to further enhance the role of the private sector in the economy. As part of this work, Small and Medium Business House (SMB House) was opened in Yevlakh on April 8.
At the event held in this regard, Minister of Economy Mikayil Jabbarov, Chairman of the Board of the Small and Medium Business Development Agency (SMBDA) Orkhan Mammadov, and Head of Yevlakh Executive Power Anar Taghiyev got acquainted with the conditions created for entrepreneurs in the Yevlakh SMB House, the services provided by public and private organizations, as well as an exhibition of goods and handicrafts of micro and small businesses and family farms, arranged in the hall of SMB House. The Chairman of the SMBDA Board has informed that the Agency is establishing SMB houses in the country cities and regions. The Yevlakh SMB House is the second house of this kind to be put into use by businesses. SMB houses are an effective mechanism in terms of providing entrepreneurs with convenient, smooth, and transparent access to public services. The main advantage of SMB houses is that they provide entrepreneurs with government and necessary business services in a single space, thereby allowing entrepreneurs to save time and money and focus more on growing their businesses.
In the Yevlakh SMB House, entrepreneurs will be provided with the government agencies' services on taxes, property matters, access to utilities, food safety, agriculture, advertising, postal services, and issuance of certificates of origin, licenses, and permits. Private companies will also provide necessary business services such as banking, insurance, leasing, translation, and design. In total, 16 public and private organizations will provide more than 200 services to entrepreneurs in the Yevlakh SMB House. There are already successful practices in the operation of the SMB houses. Entrepreneurs were 98 % satisfied with the services provided in the first SMB house, which started operating in Khachmaz in February 2020. In 2020, about 21,000 services were provided to businesses through the Khachmaz SMB House.
The SMB Development Center (SMBDC) at the Yevlakh SMB House arranges training for micro, small and medium enterprises, startups, and those who wish to start a business. Note that 5 SMBDCs have been commissioned in Baku, Sumgayit, Khachmaz, Yevlakh, and Shaki so far. Last year, about 1,200 small and medium enterprises, startups, and potential entrepreneurs wishing to start their businesses took advantage of training, consulting, and other services for SMBs. In the Yevlakh SMB Development Center, like other SMBDCs, experienced and professional experts provide SMBs with training, consulting, and other services.
Powered by Froala Editor