Presentation of services provided to entrepreneurs by the Yevlakh SMB House was held
08.04.21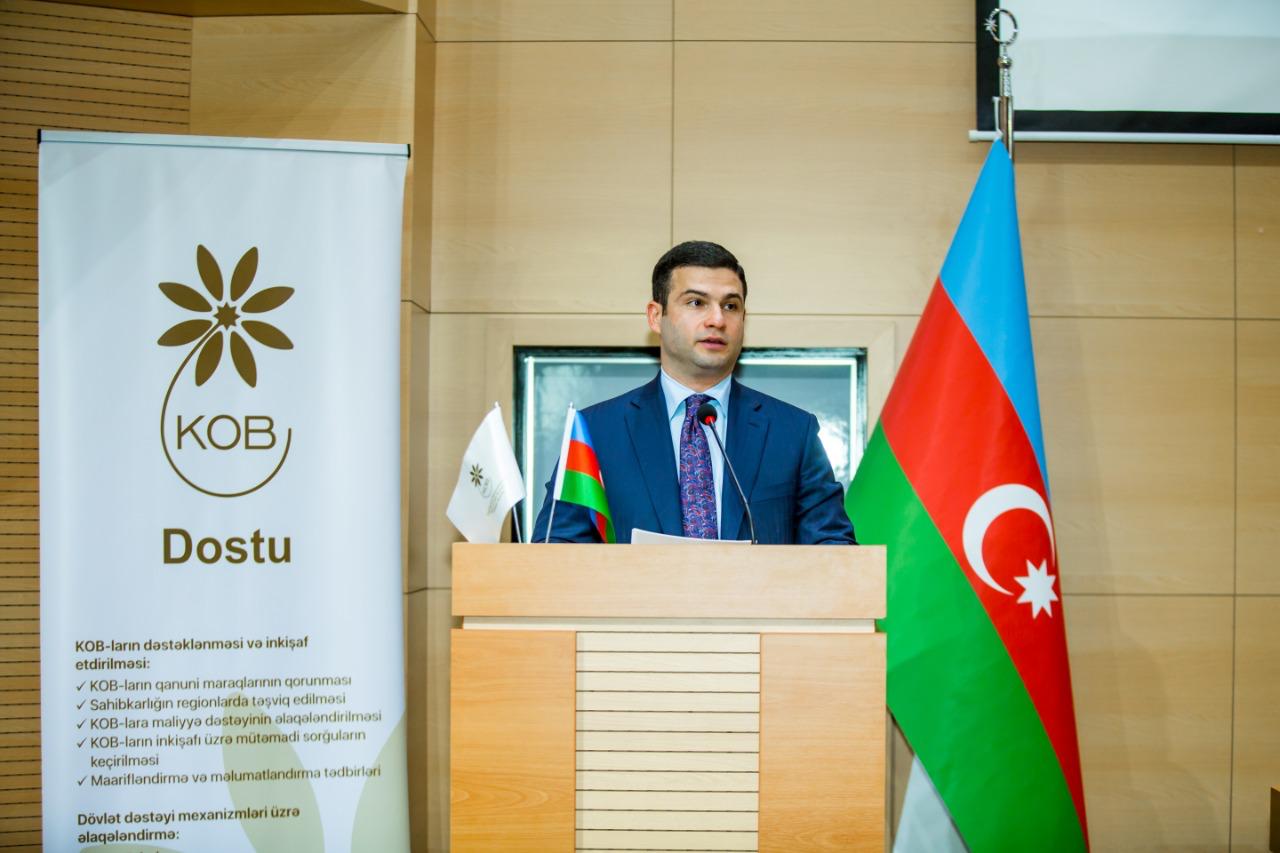 On April 8, the Small and Medium Business Development Agency (SMBDA) held a presentation of the Yevlakh SMB House for entrepreneurs of the Aran economic region.
Speaking at the event, Deputy Minister of Economy Niyazi Safarov stressed that the development of micro, small and medium businesses, increasing the role of small and medium enterprises in the country's economy, and their competitiveness is among the economic priorities, and noted the importance of establishing the Small and Medium Business Development Agency to achieve strategic goals in this area. The Deputy Minister invited the entrepreneurs of Yevlakh, as well as nearby cities and regions, to actively use the services of the SMB House and the SMB Development Center, noting that this will have a positive impact on the results of their activities.
The Head of the Yevlakh Executive Power Anar Taghiyev stressed that the SMB House would facilitate the activities of entrepreneurs in Yevlakh and surrounding areas, contribute to stimulating the development of small and medium businesses.
Presenting the concept of an SMB house and services to be provided to entrepreneurs in the Yevlakh SMB House, the Chairman of the Board of SMBDA Orkhan Mammadov noted that SMB houses are a single space where business entities are promptly provided with the required services in the Government-to-Business (G2B) and Business-to-Business (B2B) format based on latest innovations on the principles of efficiency, courtesy, and convenience. In the Yevlakh SMB House, 16 public and private organizations will provide entrepreneurs with more than 200 services at 20 service desks. The Yevlakh SMB House has all the conditions required for promptly servicing entrepreneurs, including an online queue to save time for business entities, and is equipped with systems that allow locally determining the level of SMB's satisfaction with services provided.
Orkhan Mammadov noted that according to the concept of a single space for servicing entrepreneurs, entrepreneurs of Yevlakh and the Aran economic region can use the free services of the SMB Development Center (SMBDC) at the Yevlakh SMB House to improve their knowledge and skills. The Yevlakh SMBDC provides micro, small and medium entrepreneurs, startups, and potential entrepreneurs with training and consulting, networking, providing access to financial resources, and other services.
Then, films about the SMBDA's activity and the concept of SMB houses were demonstrated.
Powered by Froala Editor