The jewelry industry development has been discussed
21.05.21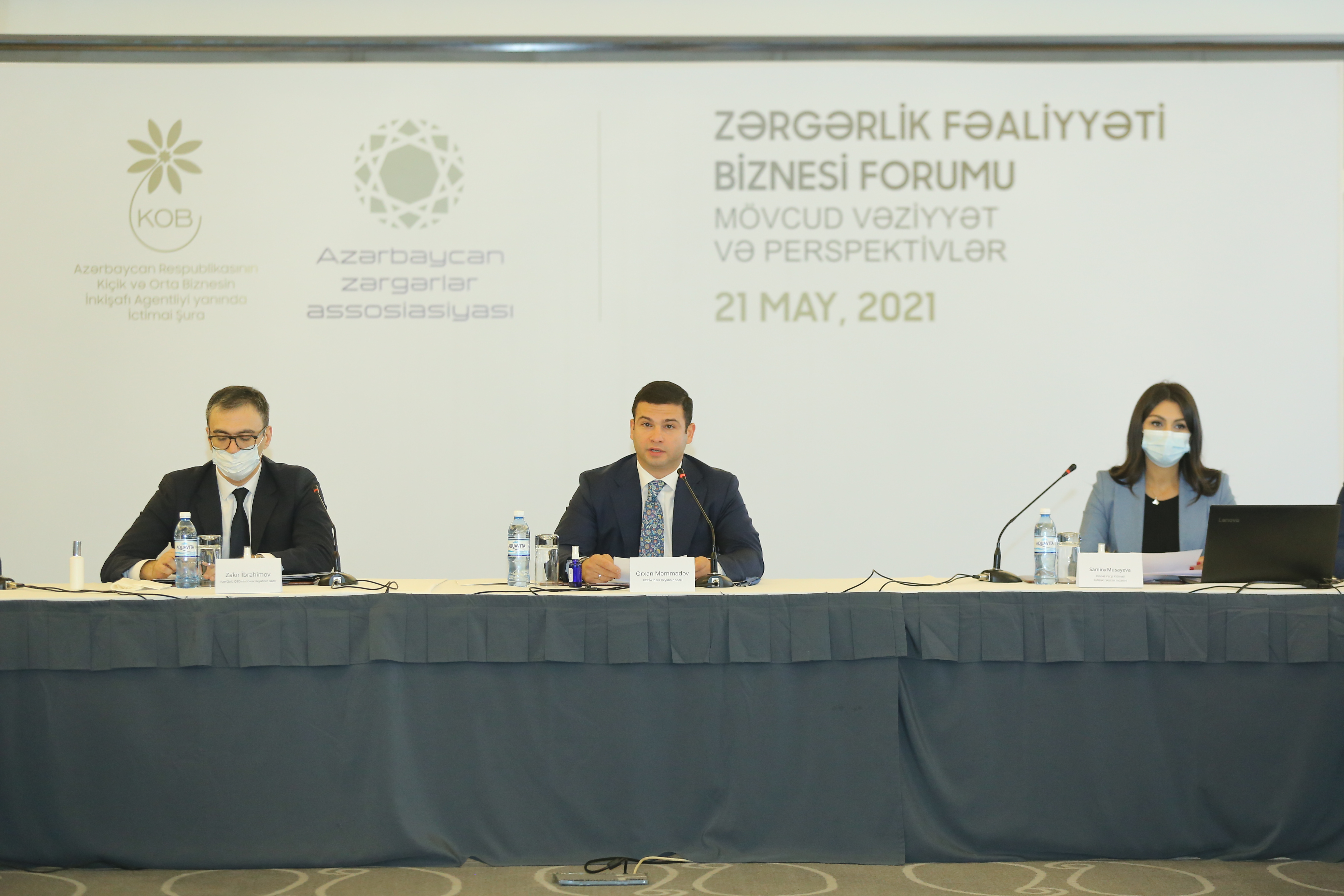 Azerbaijan has great potential and rich traditions in jewelry. Wide use of international experience, implementation of incentive measures and transparent regulatory policy, and restoration of jewelry traditions will further enhance the role of this industry in the non-oil sector.
On May 21, a business forum was held on the topic "Jewelry: current situation and prospects". The event arranged by the Public Council under the Small and Medium Business Development Agency (SMBDA) with the support of the SMBDA and in partnership with the Association of Azerbaijani Jewelers was attended by representatives of relevant government agencies, including the Ministry of Economy, the State Tax Service, the State Service for Antimonopoly Policy and Consumer Market Supervision, the State Customs Committee, "AzerGold" CJSC, and AZPROMO.
The chairman of the Public Council under the SMBDA Farhad Garashov noted that the forum was aimed at a dialogue between public and business structures for the development of jewelry, discussing opportunities for developing the jewelry market and factors affecting the competitive activities of market participants, and bringing entrepreneurs' proposals to appropriate agencies.
Speaking at the event, the Chairman of the SMBDA Board Orkhan Mammadov provided information on the reforms in jewelry and noted that a working group was created in jewelry to prepare proposals for implementing reforms and applying tax incentives introduced at the beginning of this year, and an association of jewelers was also founded with state support.
It was noted that the forum will be important to form a complete understanding of the jewelry reforms in entrepreneurs and assess the efficiency of the changes that have taken place in the industry.
Chairman of the "AzerGold" CJSC Board Zakir Ibrahimov noted the active participation of his company in the projects for developing jewelry, which is among the important local industry areas, and shared the JSC's initiatives for jewelry development and proposals for solving existing problems. Zakir Ibrahimov has noted that the ongoing reforms will ensure a noticeable development of jewelry and stressed that as a state-owned company, "AzerGold" is also ready to contribute to jewelry development by supplying raw materials containing precious metals.
Deputy head of the State Tax Service under the Ministry of Economy Samira Musayeva made a presentation on tax incentives and changes in jewelry, introduced at the beginning of this year to the Tax Code.
Chairman of the Board of the Association of Azerbaijani Jewelers Toghrul Abbasguliyev spoke about the current situation in jewelry and its development prospects.
As part of the event, discussions were held on the jewelry industry, local jewelry manufacture, the difficulties of entrepreneurs, and expectations related to this sector, proposals for the industry development were heard, and entrepreneurs' questions were answered.
The forum was arranged according to the pandemic rules.
Powered by Froala Editor